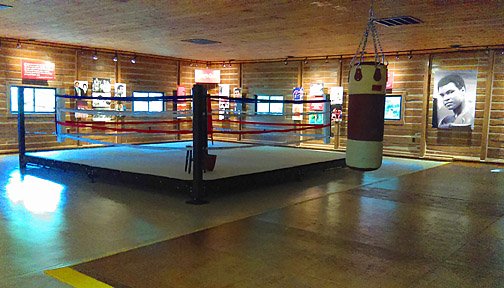 By Scoop Malinowski
There are many historic landmark sites in boxing – Madison Square Garden, the Kronk Gym, the Wildcard Gym, the Rocky steps in Philadelphia and … Deer Lake.
If you didn't already know, Deer Lake was the name of the town that hosted the site of Muhammad Ali's famous training camp in the 1970s, located in rural Pennsylvania, a couple of hours west of New York City.  Ali trained for many of his greatest fights there and many famous stars like Elvis Presley, Andy Warhol and Tom Jones paid visits to see and spend time with Ali there.
Last year the five-acre wooded tract of land that includes eighteen log buildings including a gym, dining hall. mosque, cabins and a horse barn, was purchased by John Madden's son from a family from Orwigsburg. After a year of renovations and tuning up, the legendary site is ready for action.
"The initial inspiration was that there is a next generation of kids who need to know who Ali was and what he represented, and the camp is such a unique property in sports history and American history," said the new owner Mike Madden. "Places like this don't exist anymore. It is truly unique. I think it goes beyond sports history and American history. It could be a site that has world significance."
A goal is to transform the Deer Lake camp into a place to pay tribute and collect and display pictures, videos and other Ali memorabilia and invite students on class trips to learn about the history and career of one of the most popular and beloved champions in the history of sport.
The boxing gym has been converted into a museum like space.
Ali's decision to open his training camp in Pennsylvania was originally hatched by his business manager Gene Kilroy, a native of nearby Mahanoy City. Ali had trained before in San Diego and Miami at the 5th Street Gym but because of numerous distractions, Kilroy suggested Ali create his own camp. Pre-gambling casino Atlantic City was considered first. Then Bernie Pollack, a boxing fan and owner of a mink farm in Deer Lake, PA offered Kilroy and Ali to take a look at the land in the early 70s. Ali liked the idea and the rest is history.
Ali trained in Deer Lake before his most famous fights  with George Foreman, Joe Frazier, Ken Norton, Leon Spinks and Larry Holmes. Thousands of boxing fans migrated to the camp from all over the world just to see the place and/or to catch a glimpse of the man who changed boxing and sports with his extraordinary style, talent and charisma.
Oh, remember those giant boulders with the names of Ali's opponents and heroes painted on them? They're still there spread throughout the facility.
The new Deer Lake Muhammad Ali Training Camp is expected to re-open within weeks. Sam Matta, a former sportswriter from Shenandoah, is the camp manager. Mick Stefanek will serve as the caretaker.
`