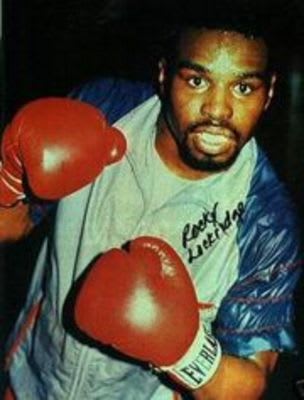 It became known recently that former 
boxing champion
Rocky Lockridge
 is down on his luck and living homeless in Camden, NJ and supposedly has been for several years. This came as a sad surprise as I met Rocky in Atlantic City in early 2001 at a boxing match. He gave me his phone number to do a Biofile for a boxing magazine, a short time later I called and we did the interview. Everything seemed fine, in his life, he looked good, his voice sounded sharp and coherent, he had a job and also gave me his mail address to forward a copy of the interview.
Rocky Lockridge was always a special boxer personally as he was the second one I ever saw in person after meeting 
Muhammad Ali
 at Deer Lake as a teenager in 1980. One afternoon at the Willowbrook Mall in Wayne, NJ in the early 1980's, me and my brother saw Rocky with his wife, pushing a baby stroller in the mall. This was a big thrill as it was rare for a kid to see in person a sports star from TV in every day life. Rocky was instantly recognizable with that natural smile and muscular physique. He gave a very friendly vibe and made me a fan for life.
Two decades later we did this Biofile in 2009, which most likely could have been one of the last in-depth, one-on-one interviews he ever gave to the boxing media. Sadly, Rocky passed away earlier this month. RIP Champ.
The Biofile Rocky Lockridge (Published in Boxing 2003 magazine)
By Scoop Malinowski
Status:  Former WBA Junior Lightweight champion (February 1984-May 1985) and IBF Junior Lightweight champion (August 1987-July 1988). Date of this interview was March 2001.
Occupation: William Jones Inc. in Camden, NJ, oil drum reconditioning.
Residence: Camden, NJ
DOB: January 10, 1959  In: Dallas, Texas
Died: Feb. 7, 2019
Childhood Heroes: 
"Muhammad Ali of course. 
Sugar Ray Robinson
 was the greatest that inspired me. And 
Henry Armstrong
 as well. I met Ali personally, the first time I was a young kid out of Tacoma, Washington. Boys Club, he'd come to the Tacoma Boys Club. I was a kid, about 10. Met him again just prior to turning professional. I was invited to Deer Lake by Muhammad Ali. They had an amateur program there."
Hobbies/Leisure Activities:
  "Going to the movies, going skating, swimming, playing pool, 
ping pong
 and basketball."
Nicknames:  "No nicknames at all."
Favorite Meal:  "Lasagna."
Favorite Breakfast Cereal:  "Buckwheat."
Favorite Ice Cream Flavor:  "Vanilla."
First Job:  "Was an auto detailer in Seattle at Howe Ford (age 16)."
First Car:  "Chevy Camaro, red with tan top, 1982."
Early Boxing Memory:
  "A fact that I was able to meet celebrities in entertainment, celebrities of all kinds, and just to be in the environment of it. Fortunate enough to become a celebrity myself through boxing. I met Luther Vandross – he's a boxing fan, 
Billy Dee Williams
, 
Richard Pryor
, 
Redd Foxx
, 
Karl Malone
 and Wilt Chamberlain."
Favorite Movies:  "Don't really have a favorite."
Musical Tastes:  "I like R&B and jazz as well. Mint Condition."
Pre-Fight Feeling:  "I would just think about the positiveness, the victory. Being very confident. And of course, not overly confident. Knowing I prepared myself mentally, physically to get the job done. I was never really nervous after a few seconds or minutes of the first round, you over come that pretty quickly. (Did you look at your opponent after entering ring?) Sure, absolutely. To study him, look at certain areas of the body. How big the head is in reference as a target, for a hook or a right hand. Certain areas I'd concentrate on. The change of expression after you make eye contact. Even more so, fear in his look after a round or so."
Greatest Sports Moment: 
"The birth of my twin boys (Ricky, Lamar) in addition to capturing the world title from (Roger) Mayweather (KO 1 in 1984). The disrespect he showed me when he got in the ring – there was no respect at all. I knew without question, it had to be brought forth. That's why I went on the attack – to get the respect he should have given me to begin with. After the fight he was the nicest guy I had ever met in the 
fight game
. The respect he gave me after was much more than I ever expected. That's what I set out to do, get respect as a man and as a fighter."
Most 

Painful Moment

:
  "I guess on occasion, either when I was champion or challenger – going to the backyard of a contender, not having to, and then being defeated, when it wasn't necessary to have gone there. Tony 'Tiger' Lopez ('87). 
Wilfredo Gomez
 ('85)."
Toughest Opponent:
  "
Eusebio Pedroza
. He was relentless and he got stronger as the fight went on. And he'd hit you everywhere but under your feet [laughs]. With elbows, the whole nine yards. 
Julio Cesar Chavez
 also. Very crisp puncher, consistent, very well conditioned."
Hardest Puncher:
  "
Juan Laporte
. Because he's the one opponent that knocked me out (second round in '81)."
Which Fight Were You At Your Very Best:  "Winning the (WBA junior lightweight) title in '84 against Mayweather."
Funniest Boxer Encountered: 
"The comedian himself was my stablemate 
Johnny Bumphus
 who always kept the hilarity going on whether in the gym or even on fight day. He did a lot of watching movies and he had various ways of imitating  certain entertainers, certain actors. He pretty much carried that humor that they represented, with him."
Closest Boxing Friends:
  "Johnny Bumphus, 
Alex Ramos
."
Favorite Vacation Spots:  "Honolulu, Hawaii, Las Vegas."
People Qualities Most Admired: 
"The class of great ones such as 
Sugar Ray Leonard
, who has had a positive impact in and out of the ring. Represented as a father and as a man. 
Sugar Ray Leonard
 was one I looked up to mostly."
Copyright: Mark Scoop Malinowski 2009